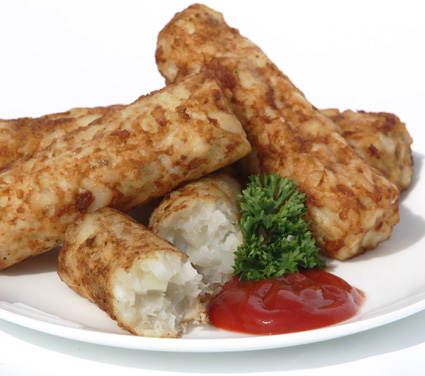 INGREDIENTS:  POTATO, CANOLA AND/OR SOYBEAN OIL, POTATO STARCH, SALT, DEHYDRATED ONION, SUGAR, BLACK PEPPER
PREPARATION INSTRUCTIONS:  NOTE:  Prepare product from the frozen state.  If product is thawed, reduce cooking time accordingly.  Ensure product is thoroughly heated (165F) before serving.  Since appliances vary, the instructions below are guidelines only.
ROLLER GRILL:  Cook from frozen 30 -40 min. on medium heat.
FRYER: Fry at 360F for 2 1/2 - 3 minutes until thoroughly heated.  Allow to cool at least one minute before serving.
OVEN:  Preheat oven to 375F.  Place roller hash browns on a baking tray in the center of the oven.
Pack Size:  1 x 42 pack (85 g per piece) 7.88 lbs. (3.56 kg) Holding time 3 hours
UPC code: 30629073008051
Contact Us
Nutrition Facts
Amount per Serving
Calories 120
Fat Calories
%Daily Value*