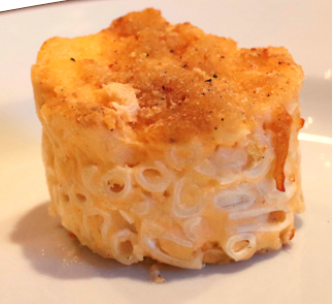 The rich taste of homemade style Mac & Cheese without the labour intensive prep and they're the perfect upscale side dish to enhance any Entrée.
- Behind the Glass in Deli Case.
- Pack in Clam Shell for Grab & Go.
- Precut 12 Portions 2" x 2" x 1" (90g)
- Slack Out Desired Portions.
- Easy to work with for HMR
- Versatile for Merchandising
- Zero Shrink
Ingredients:
Whole Milk, Pasta ( Water, Semolina Amber Durum Wheat Flour, Niacin), Cheddar Cheese (Milk, Modified Milk, Cream, Bacterial Culture, Salt, Color), Bread Crumbs (Flour, Water, Glucose, Canola Oil, Yeast, Salt, Inactive Yeast, Sorbic Acid), Salt, White Pepper, Garlic Powder.
Cooking Instruction:
Microwave:    1 ½ to 2 ½ minutes.
Oven:    400°F for 10-12 minutes.
Pack Size:    12 portions per tray
Weight:    1.08kg x 4
4.32kg
Contact Us
Nutrition Facts
Amount per Serving
Calories 150
Fat Calories
%Daily Value*